Featured Lake


Hogan & Whitney Ponds (Oxford County)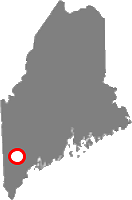 Thanks to Scott Williams for contributing this article!
Hogan & Whitney Ponds - Near but dissimilar neighbors
Viewed from a drone or satellite image, one might expect that Hogan and Whitney Ponds, situated in the western foothills of Maine, would be as alike as "two peas in a pod". As LSM certified lake monitor, Bruce Wilson's, excellent photos show, the two lakes appear to be nearly identical in shape and surface area (178 and 167 acres respectively), as well as volume. The mean (average) depth of Hogan is 15 feet, and Whitney is 14 feet.
The two lakes are separated by a relatively narrow ridge of gravel and sediment, deposited several thousand years ago by meltwater from the retreating glacier. This "esker" between them is as little as ~40 feet wide. It is even possible at the narrowest point on the esker, which rises up between Hogan and Whitney approximately 25 feet, to stand in the middle and cast a stone into the water of either lake.