Featured Lake


Lloyd Pond (Piscataquis County)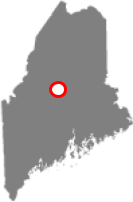 Thanks to Sarah Nelson for assisting with this article!
Lloyd Pond - a remote pond in the Maine woods
Located just off of the Appalachian trail, 2-acre Lloyd Pond is one of many remote waterbodies deep within the Maine Woods. It lies just north of Long Pond (see map below) and flows into the West Branch of the Pleasant River. Brook trout and Golden shiner have been documented from Lloyd Pond. However, for many of these remote ponds and lakes, we know little (often nothing) about their water quality and biology.