Previous Did You Know?
June 2020: Black Bass
Black bass are favorite targets for many anglers. Although they have been in Maine since the 1800s, largemouth and smallmouth bass are not native to our state. The first recorded largemouth introduction was in Forbes Pond in Gouldsboro in 1897. Today, there are more smallmouth lakes in Maine than largemouth lakes. Use our Species Mapper to explore the distributions of these 2 black bass species in Maine lakes.
Although illegal introductions continue, the ME Dept. of Inland Fisheries & Wildlife no longer stocks largemouth or smallmouth bass. The only species currently stocked by IF&W are salmonids — brook, lake, brown and rainbow trout, landlocked salmon and splake. You can find out which lakes and rivers were stocked in 2020 HERE. More on bass management in Maine is HERE.
February 2020: Ice-out Dates
Records of ice-out dates for 18 Maine lakes extend back into the 1800s, with the longest data set being from Sebago lake (first ice-out record: 1807). In the case of Auburn Lake, ice-out records begin in 1836. In the recent LSM newsletter, Lloyd Irland writes about "Maine Lake Ice-Out Dates and Ice-Free Periods: What's the Trend?" For Auburn Lake, Irland shows that there has been a "striking increase of 26 ice-free days between the averages of 1952-1971, and the 1998-2017" (see figure, below). Discover more about ice-out trends for Maine lakes HERE.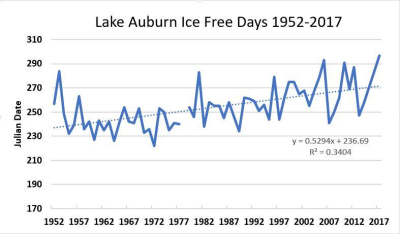 November 2019: Water Transparency & an Italian Priest
There are over 140,000 Secchi readings from Maine lakes on this website — most of them collected by volunteers. The circular disk, familiar to all lake citizen scientists, was invented in 1865 by an Italian Jesuit priest, Pietro Angelo Secchi. He had been invited to join a research cruise on a ship (the "Immacolata Concezione") of the Pontifical Navy to find an objective method to measure water clarity. Secchi's original white disk was modified in 1899 by an American civil engineer, George Whipple, to the black and white version we now use.
Angelo Secchi was an extremely accomplished scientist. While his main field of scientific interest was astronomical spectroscopy, he also studied meteorology and oceanography. For a while, he taught at Georgetown University before returning to Rome in 1850. Over his career, he published over 700 scientific works.
For more information on Angelo Secchi, here is one source.
To access the various data sets containing Secchi data, click HERE.
September 2019: What you can find on LakesofMaine.org
On lakesofmaine.org you can find:
Water quality from all 1,065 surveyed lakes in Maine
Lists of fish species present in 2,342 lakes and aquatic plants in more than 410 lakes
Interactive species distribution maps for fish, plants, crayfish and mussels
Loon census data
Maps of conservation lands around your lake
Boat launches