Previous Did You Know?
October 2020: The Cooper Lake Surveys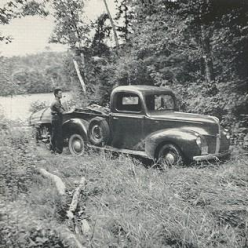 The year is 1937. Across the Atlantic, the Spanish civil war is raging. Somewhere over the Pacific, Amelia Earhart is last heard from. In the US, FDR opens the Golden Gate Bridge; the Hindenburg airship is destroyed at Lakehurst NJ; Spam is first sold in food stores. And, in Maine, Gerald Cooper, a faculty member at UMaine, begins the first systematic survey of the water quality and biology of Maine lakes (and some streams). During this first year, Cooper focuses on streams and a few lakes in York and Cumberland counties. Over the next 7 years (with a break during the war year of 1943), Cooper and colleagues survey over 200 lakes, ending up with Moosehead and Haymock Lakes in 1944.
A key reason for the Cooper surveys was to evaluate lakes for fish-stocking. They collected data on: lake depth, water temperature, dissolved oxygen, pH, phosphorus, benthic invertebrates, and plankton & fish communities. Cooper did not measure water transparency. Therefore (and unfortunately, given the ever-expanding base of Secchi data collected by LSM volunteers and others) it is not possible to explore how transparency in these lakes has changed over the 8 decades since these historical surveys were carried out.
The results of the surveys were published in a series of seven Fish Survey Reports. An interactive map showing where the lake surveys happened is HERE.
Cooper et al. used gill and seine nets to collect fish. Supplemented by information from fish & game wardens, they thus documented the structure of the fish community in each surveyed lake (species composition, diets, age/growth). By comparing these data with more contemporary data from IF&W, it is possible to examine changes in lake fish communities over the past ~ 60 years. Especially interesting is the 'spread' of such species as largemouth and smallmouth bass as a result of both intentional and illegal stocking (and 'natural' range expansion).
Explore these changes in Maine's lake fish communities HERE.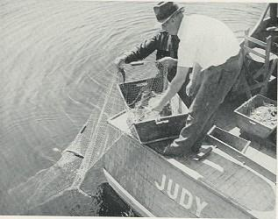 September 2020: Maine's Oldest Lake
It's the end of the last ice-age. The glacier that covers northeastern North America with a 1.5-mile thick layer of ice starts to melt. Its edge is near Georges Bank in the Gulf of Maine. Around 16,000 years ago, the first rocky island emerges from the ice sheet to form what will one day become mountain tops in today's Acadia National Park. Meltwater fills a basin in the granite rock to form Maine's first lake - Sargent Mountain Pond.
Catherine Schmitt has written about Sargent Mountain Pond:
"...Three thousand years later, to the north, Katahdin emerges from beneath the ice and snow; to the south, woolly mammoths browse on shrubby willows, ferns, and sedges taking root on the newly exposed tundra. Nomadic people follow the path of the receding ice to hunt and fish…..Centuries pass. The [ocean] shoreline drops as the land, freed from the weight of the ice, slowly rebounds to its now-familiar position. Salmon are stranded in Sebec, Sebago, Green, and West Grand lakes. Mammoths retreat and whales head for deeper waters."
Around 12,000 years ago, forest vegetation first develops around Sargent Mountain Pond.
Catherine's full story is HERE.
Several years ago, Steve Norton, Steve Kahl, Randall Perry and other scientists from the University of Maine drilled down through the winter ice to take cores of the lake's sediments. Using chemical and biological analyses of these cores, they have described many aspects of the history of Sargent Mountain Pond. Perry's research is HERE. Find other research articles on this lake using Google Scholar.
Sargent Mountain Pond is on what must be one of the most visually stunning hiking trails in Maine. Joe Braun has an excellent photographic tour of the trail that includes this lake.
June 2020: Black Bass
Black bass are favorite targets for many anglers. Although they have been in Maine since the 1800s, largemouth and smallmouth bass are not native to our state. The first recorded largemouth introduction was in Forbes Pond in Gouldsboro in 1897. Today, there are more smallmouth lakes in Maine than largemouth lakes. Use our Species Mapper to explore the distributions of these 2 black bass species in Maine lakes.
Although illegal introductions continue, the ME Dept. of Inland Fisheries & Wildlife no longer stocks largemouth or smallmouth bass. The only species currently stocked by IF&W are salmonids — brook, lake, brown and rainbow trout, landlocked salmon and splake. You can find out which lakes and rivers were stocked in 2020 HERE. More on bass management in Maine is HERE.
February 2020: Ice-out Dates
Records of ice-out dates for 18 Maine lakes extend back into the 1800s, with the longest data set being from Sebago lake (first ice-out record: 1807). In the case of Auburn Lake, ice-out records begin in 1836. In the recent LSM newsletter, Lloyd Irland writes about "Maine Lake Ice-Out Dates and Ice-Free Periods: What's the Trend?" For Auburn Lake, Irland shows that there has been a "striking increase of 26 ice-free days between the averages of 1952-1971, and the 1998-2017" (see figure, below). Discover more about ice-out trends for Maine lakes HERE.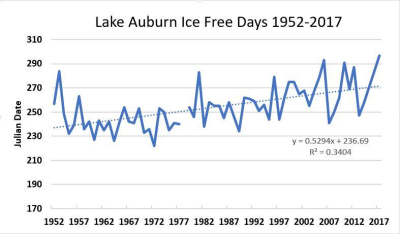 November 2019: Water Transparency & an Italian Priest
There are over 140,000 Secchi readings from Maine lakes on this website — most of them collected by volunteers. The circular disk, familiar to all lake citizen scientists, was invented in 1865 by an Italian Jesuit priest, Pietro Angelo Secchi. He had been invited to join a research cruise on a ship (the "Immacolata Concezione") of the Pontifical Navy to find an objective method to measure water clarity. Secchi's original white disk was modified in 1899 by an American civil engineer, George Whipple, to the black and white version we now use.
Angelo Secchi was an extremely accomplished scientist. While his main field of scientific interest was astronomical spectroscopy, he also studied meteorology and oceanography. For a while, he taught at Georgetown University before returning to Rome in 1850. Over his career, he published over 700 scientific works.
For more information on Angelo Secchi, here is one source.
To access the various data sets containing Secchi data, click HERE.
September 2019: What you can find on LakesofMaine.org
On lakesofmaine.org you can find:
Water quality from all 1,065 surveyed lakes in Maine
Lists of fish species present in 2,342 lakes and aquatic plants in more than 410 lakes
Interactive species distribution maps for fish, plants, crayfish and mussels
Loon census data
Maps of conservation lands around your lake
Boat launches