Previous Lakes-of-the-Month
January 2021: Sebago Lake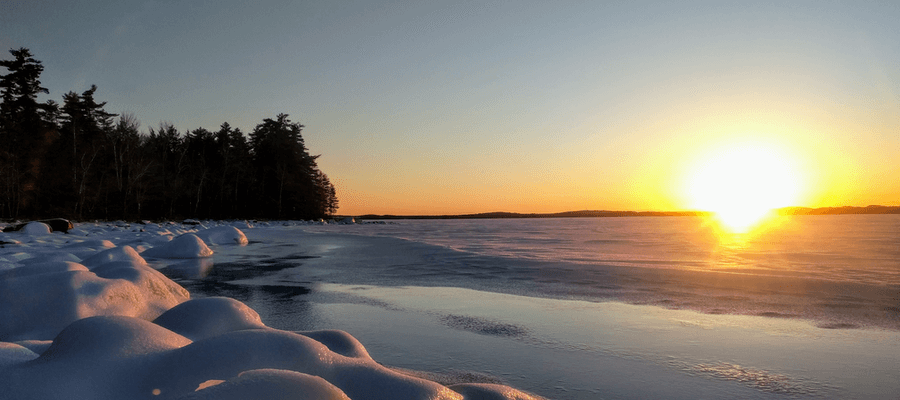 Image credit: Camilla Fecteau Bridge, taken at St. Joseph's College, Standish
About Sebago Lake
Sebago Lake is located in the towns of Casco, Naples, Raymond, Sebago, Standish and Windham. It is the deepest and second-largest lake in Maine at 96.3 meters (316 feet) and 12,137 hectares (29,992 acres), respectively. The perimeter of Sebago -- 158 kilometers (98.2 miles) -- is substantially developed and about 90% of the watershed is privately owned. Despite this, significant eutrophication (caused primarily by phosphorus runoff) has been limited. This is vitally important as it is the primary water supply for the Portland Water District (PWD) which serves nearly 15% of Maine's population. The reason for the limited eutrophication is due to the large and heavily-forested nature of the watershed and the fantastic work of PWD, Sebago Clean Waters, and many lake stewards. Two other factors that may play a role are that areas of its watershed -- notably the Long Lake region -- are naturally high in aluminum and are at greater elevation. Generally, higher elevations have less marine-derived clay soils which are typically high in phosphorus. A last note, the oldest recorded ice-out, taken in 1807 CE, comes from Sebago.


The state of ice coverage on Maine lakes has become an increasingly prominent concern. It appears, based on ice-out data, that over the past 100 years there has been a substantial shift towards earlier ice-outs. This means it is likely that ice is covering lakes for less of the year. Extended periods of ice cover is one of the reasons why Maine has such high quality lakes compared to many other parts of the United States. Blooms of cyanobacteria and algae, and certain invasive species are all tempered or prevented from establishing due to the long, cold winters.
To discuss ice further we need to understand the terminology and complications of monitoring it. Both ice-in and ice-out are localized events defined by the observers. At Lake Stewards of Maine (LSM), we have provided some guidelines that individuals or lake associations can use. However, if there are historical observations, the observers should maintain that same criteria for determining these events. The consistency is vitally important to pick up on changes over time.
The monitoring by our citizen scientist network remains a critical component for understanding our lakes. In the mid-2000s, using data, including that collected by LSM volunteers, USGS Hydrologist Glenn Hodgkins was able to determine that the duration of ice cover for a number of New England lakes has been diminishing over the past century. This same conclusion has been arrived at by Lloyd Irland, PhD. This past summer LSM hosted Dr. Irland as a part of our summer webinar series. A recording of the session, Lake Ice Regimes: Some Baffling Trends and Challenges for Citizen Science, can be found HERE.





Charts by Lloyd C. Irland, from research now being prepared for publication.

Both ice-in and ice-out are really proxies for climate change and variations between seasons. The charts of average ice-out dates (above) show the movement towards an earlier ice-out, indicated by the negative slope of these two trend lines. One of the important take-aways is that there is significant variation between the years and even decades. It is only with long-term data sets that trends can be identified. Ice-out has a more robust historical record in many communities -- this may be due to the celebratory nature of warming weather and the autumn harvests and preparing for the colder months ahead. Although ice-in data is patchy and does not have as long a history as ice-out data, what is available indicates ice-in dates are becoming later. This double-sided attack -- later icing over in the fall and earlier retreat of ice in the spring -- is another troubling indicator of climate change and a warming Maine, more prone to algae blooms and invasive organisms.
If you're interested in getting involved in ice data collection please check out the information available on our website and contact us HERE.


Learn more about Sebago Lake HERE or check out conservation areas near it HERE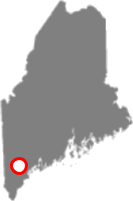 December 2020: Bartlett Pond Lake (Androscoggin County)


Image credit: Jonnie Maloney
About Bartlett Pond:
Bartlett Pond is located in Livermore. It is a relatively small pond with an area of about 11.3 hectares. It is also relatively shallow with a mean depth of only 3.7 meters. Maine Inland Fisheries and Wildlife has classified it as supporting cold water fisheries and as far as we know there are no invasive species present. Sadly though, there is little data available beyond this about Bartlett Pond. This is one of many lakes in Maine that do not or have not had a water quality monitor and/or invasive plant patroller. If you want to get involved in monitoring lakes, you can contact Lake Stewards of Maine (LSM) HERE.


In the early 1800's a new form of industry was established: ice harvesting. Fredric Tudor of Boston began shipping ice from cold regions to warmer regions like the southern United States and Caribbean. Although the ice trade was not new (wealthy families often had icehouses), Tudor revolutionized it by creating specially-designed cargo holds on ships that kept the ice cold long enough to get to their destination.

Prior to Tudor's innovation, ice harvesting was dependent on local resources. According to Eric Cline, PhD., some of the earliest evidence for ice harvesting and storage comes from the Bronze Age (circa 1750 B.C.E.) in Mesopotamia. Special buildings were needed to keep ice harvested in winter (or from glaciers at high elevations) cool in the summer months. As metropolitan areas expanded, ice also became desirable in these urban heat islands (e.g. New York and Philadelphia) during summer months. It was this latent desire, a murderous heat wave in 1896, and varied forms of shipping that Tudor, Charles Morse of Maine, and others leveraged to grow their businesses beyond simply sales in the South.

In Maine, the harvest and sale of ice became a major source of revenue. Morse's work was a significant portion of this. He was well-positioned, having inherited his father's towing business along the Kennebec River. According to historical maps from one Boston ice broker, in 1882 1.5 million tons of ice were harvested from the fresh waters of Maine. Between 1870-1890, over 25,000 people were employed each winter to cut and store ice. Due to Maine's high water quality and cold winters, the ice of Maine became the national standard for quality and was noted upon for its crystal-blue color. In addition, sawdust from Maine's lumber industry was collected and used both as insulation for Maine's ice and as a commodity for other ice shipping. The wealth produced from these ice harvests was greater than California's annual gold production.

Early on Tudor, who controlled the majority of ice shipping, would sell ice at a loss in order to drive out competition in a particular region. This behavior suddenly made ice available to the average person, increasing market demand and leading to changes in food preservation, notably the development of the household ice chest. Morse, coming some 70 years later, sold stock in his ice company and expanded his business. In a ploy to create a monopoly and manipulate the price of ice, driving it higher, Morse failed. The corruption was revealed by the New York Journal and Advertiser, however Morse was able to leave the ice trade with an estimated $12 million in profits. Morse's timing turned out to be good, by the early 1900s the invention of mechanical cooling and fears over typhoid and pollution caused a significant downturn in the purchasing of natural ice. Today, ice harvesting is no longer a commercial venture but has remained as a component of historical reenactments and occasionally for use in ice sculptures.




Image credit: Washburn-Norlands Living History Center

Organizations like, The Washburn-Norlands Living History Center, a museum located in Livermore, Maine, hold ice-centric activities to relieve the stress of winter and to highlight the significance of ice harvests in Maine's history. Washburn-Norlands Center's Cabin Fever Reliever event is located on Bartlett Pond, however due to CoViD-19 they are likely to forego the 2021 event. More information about their past event can be found HERE; more information about Maine's history can be found at the Maine Historical Society website.
Learn more about Bartlett Pond HERE or check out conservation areas near it HERE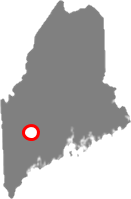 November 2020: Androscoggin Lake (Androscoggin County)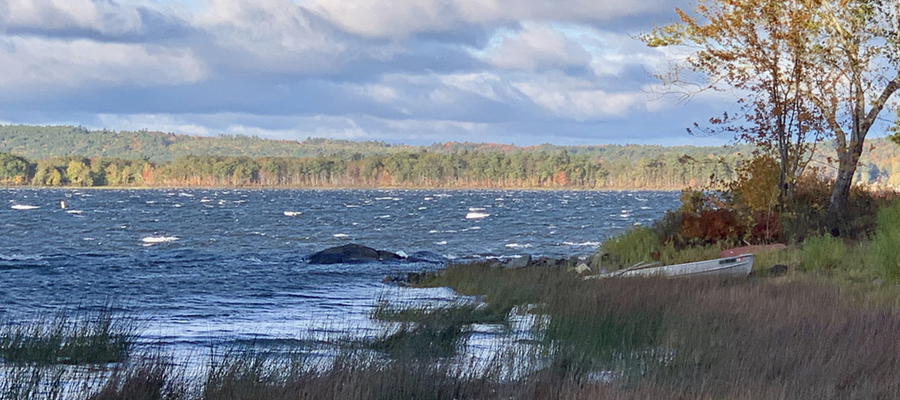 Image credit: Martha Hoddinott [edited]
About Androscoggin Lake:
Androscoggin Lake

is located in western Maine and split between the towns of Leeds and Wayne. It is part of the 30 Mile River watershed and connected to a number of other water bodies including Bonny Pond, Pocasset Lake, Lovejoy Pond, Echo Lake (Crotched Pond), and the Androscoggin River. The lake supports both cold and warmwater fisheries, has a maximum depth of 11.6 meters, and an average transparency of 4.3 meters.
Another connected waterbody is the Dead River (Androscoggin county). This boggy river is known to reverse its flow during times of high runoff and may inject humic acid, potential contaminants, and sediments into the lake. This may lead the lake to experience greater variability in color and additional complications such influxes could produce.
According to the

Maine Natural Areas Program

, Androscoggin Lake is one of the only known locations in Maine where the rare plant, cattail sedge,

Carex typhina

, can be found. Maine is the northern limit for this species' range; the range covers part of Maine and southwest Quebec, runs westward to Wisconsin, south to Louisiana, and east to Georgia, then back up the eastern seaboard. It is possible with warming, due to climate change, that the range will extend further north. More about the

C. typhina

and both native and invasive plants in Maine can be found

HERE

.
In the late summer of this year, 2020, variable water-milifoil,

Myriophyllum heterophyllum

, was found in Androscoggin Lake by Katherine Mahoney, a member of Androscoggin Lake's Invasive Plant Patrol team. The suspicious plant was found in Inner Cove, at the northern end of the lake, about 400 yards northwest of the state boat launch. The plant that was found lacked the features needed to confirm an identification with 100% certainty, so the specimen was sent on to Dr. Lucas Bernacki of Saint Joseph's College for DNA analysis. Upon learning the DNA results, which unfortunately confirmed the invasive species, a coalition of local, regional and statewide partners including

30 Mile River Watershed Association (30 MRWA), Androscoggin Lake Improvement Corporation, Lake Stewards of Maine (LSM), and Department of Environmental Protection (ME DEP)

,

leapt into action.
On the 3rd of October, 2020, Roberta Hill of LSM and Lidie Robbins of 30 MRWA led a team of 15 volunteer invasive plant patrollers (IPPers) in screening surveys of the lake with the focus upon Inner Cove, where that first specimen was found. Several patches of variable milfoil were found; one patch, more than 10 feet in diameter, suggested that the milfoil has been present in the cove for at least a year. On October 15th, another screening was conducted, this time assisted by several of LSM's Uber-IPPers and two divers, one from the ME DEP and one from Little Sebago's milfoil removal team. Four additional plant clusters were identified. Invasive plants were removed from all identified locations.
M. heterophyllum spreads through two mechanisms: auto-fragmentation and vegetative propagation. The parent plant becomes more brittle toward the end of the growing season, and breaks apart (auto-fragmentation), creating numerous viable fragments. Each fragment is a clone of the parent plant and mobile. When caught in a current, or by the wind, or even something like a boat's line they are carried off to a new location. If they come to rest in a good spot, through the action known as vegetative propagation, the fragments will sprout roots, and may establish a new colony.
The fact that (so far) the M. heterophyllum seems to be confined to the wetland at the northwestern corner of Inner Cove, provides some hope that the infestation may have been caught early on. In order to be sure, LSM, our volunteers, and partner organizations need to conduct a comprehensive (Level-3) survey of the entire littoral zone of the lake. Thanks to the efforts and dedication of the various partners and IPPers, plans are already underway to ensure such a survey will be completed next summer. If you are interested in getting involved, please contact Roberta at [email protected].
Learn more about Androscoggin Lake HERE or check out conservation areas near it HERE.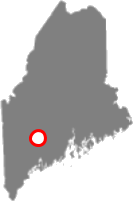 October 2020: Big Reed Pond (Piscataquis County)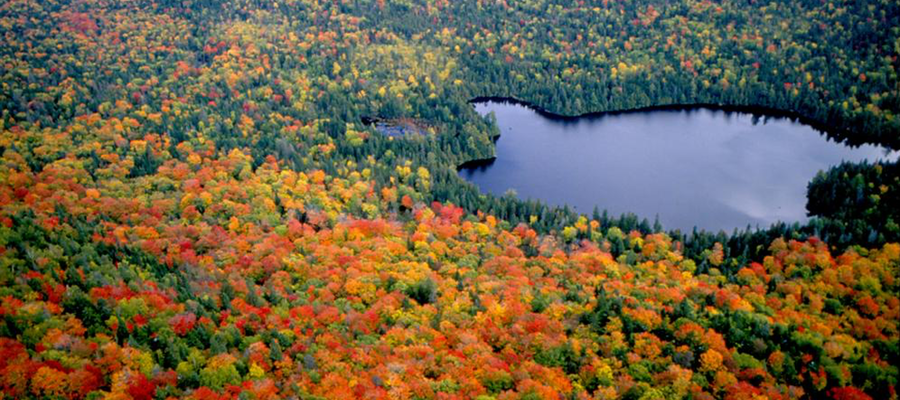 Image credit: Bill Silliker, The Nature Conservancy
About Big Reed Pond:
The Nature Conservancy's Tim Paul writes about Big Reed...

Big Reed Pond lies north of Baxter State Park in T8R10 within The Nature Conservancy's 4,583-acre Big Reed Forest Reserve, the largest and most outstanding old‑growth forest in New England. The property is managed as an ecological reserve, where the forest and waters are shaped by natural processes such as wind, ice, and other weather events. Beyond providing valuable natural habitat, ecological reserves are important to scientists studying the forest ecosystem and how it responds, in the absence of timber harvesting, roads and other human intrusion, to challenges such as climate change, forest pests, diseases, and airborne pollution.
There are three ponds within the preserve and at 90 acres, Big Reed Pond is the largest. Big Reed Pond contains one of the few remaining populations of landlocked Arctic charr (Salvelinus alpinus oquassa) in the eastern United States. Arctic charr once inhabited lakes across the northeastern United States and Canada. However, because it is very susceptible to environmental change, the introduction of non-native fish species and pollution has led to the extirpation of native U.S. populations of charr in all but Maine and Alaska. Eleven lakes in Maine have native Arctic charr populations. (The other 2 ponds in the preserve are Little Reed and Buckley.)
While surveys of the Arctic charr in the 1980s indicated that the population was stable, fishing success rates dropped precipitously in the 2000s, signaling poor reproductive and survival success in Big Reed charr. The introduction of rainbow smelt, likely by the illegal dumping of bait, altered the dynamics of the pond as smelt aggressively feed on charr eggs and fry. In 2008, the Maine Department of Inland Fisheries and Wildlife began removing charr and brook trout from the pond to a hatchery in order to chemically destroy the invasive smelt. After reclamation of the pond in 2010, progeny of the original charr were restocked in the pond and by 2017 biologists confirmed that natural reproduction of the fish was once again taking place in Big Reed and the population was rebounding. The pond also sustains a diverse population of native brook trout and minnows.
Big Reed Pond is only accessible by float plane or hiking in through the remarkable old growth forest, therefore it receives little visitation or fishing pressure. As a consequence it provides a unique wilderness lake experience. Overnight camping or fires in the reserve are not allowed.
Explore the various conservation areas in the Big Reed area HERE.
September 2020: Eastern painted turtles, Lake Auburn area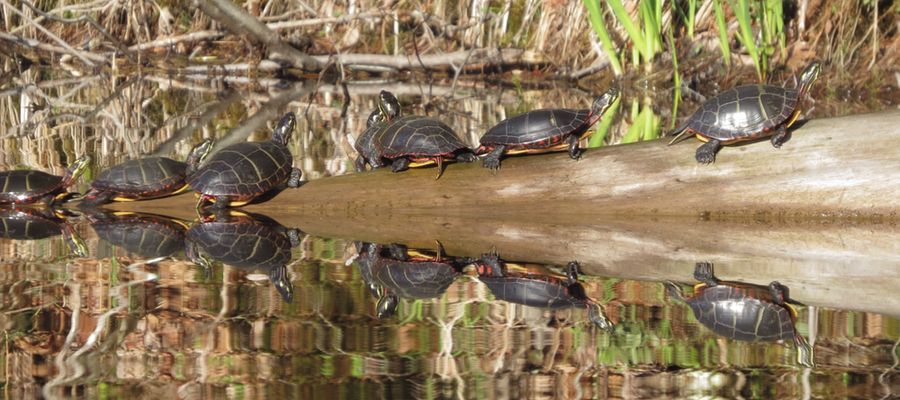 Credit: R. Crosby
About Lake Auburn:
The Eastern painted turtle (Chrysemys picta picta) is one of 7 turtle species in Maine. In the early 2000s, The Nature Conservancy led a major synthesis study of Maine's freshwater biodiversity. The study's final report contains a wealth of information about aquatic biodiversity in Maine. Chapter 6.3 focuses on amphibians & reptiles - and includes species distribution maps.
Lake Auburn (which used to be called Wilson Lake) is the municipal water supply for the cities of Auburn and Lewiston. Lakes Stewards of Maine's Scott Williams takes up the story of this lake...
Historically, this lake has experienced very good water quality, as evidenced in part by the fact that it supports a healthy coldwater fishery (primarily Lake Trout). At one time, Lake Auburn was a popular destination for visitors from around the globe, who would board the "Steamship Lewiston" Ferry on the easterly side of the lake at "Lake Grove Resort" en route to the westerly shore, where a world-famous grand hotel and mineral spring spa was highly valued by those who drank and bathed in its reportedly restorative waters. The hotel famously burned in the late 1800's.


For more than a century, the municipal water district and the Lake Auburn Watershed Protection Commission have worked diligently to protect the health of this lake through educating landowners about lake conservation practices, purchasing conservation easements throughout the watershed and virtually eliminating all shoreline development. But in 2012, Lake Auburn experienced an unanticipated severe algal (cyanobacteria) bloom, resulting in a significant die-off of the Lake Trout population, less than 2 meters water clarity, and high concentrations of phosphorus. The Auburn Water District convened a group of lake researchers who, over a period of a few years, unraveled the complex factors that led to this phenomenon. Climate warming, extreme weather events, lake sediment geochemistry and other factors combined to create the "perfect storm" that caused the bloom. In 2019, a successful "alum" treatment was conducted on the lake. Water clarity (Secchi transparency) readings in 2020 have been as high as 12 meters!
Discover more about Lake Auburn HERE.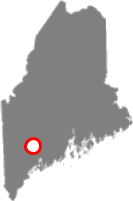 August 2020: Flanders Pond (Hancock County)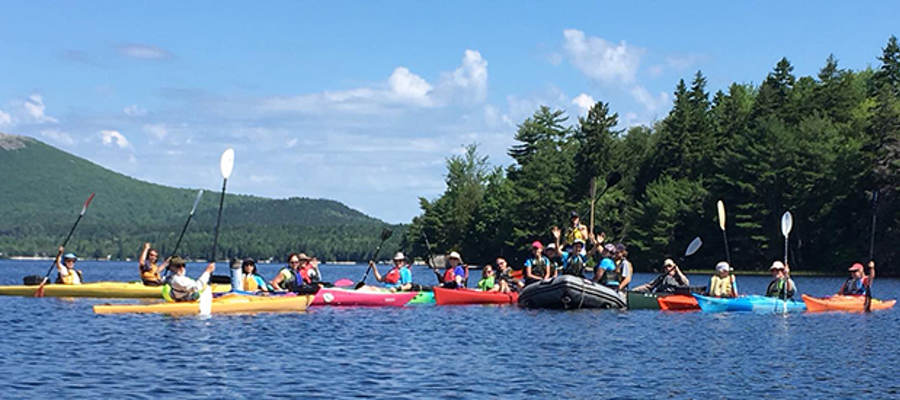 Credit: Roberta Hill
About Flanders Pond:
One of nine lakes & ponds in the town of Sullivan, 535-acre Flanders Pond lies just off of the Downeast Sunrise trail which runs from Ellsworth to Ayers Junction along a portion of the route of the former Brewer-Calais railroad. This section of the trail provides access to hiking trails up Schoodic Mountain.
Flanders Stream, on the southwest corner of the lake, is well known locally for its large alewife run. There is an alewife viewing area on Thorne Road (just off of Route 183) and the fish can often be seen spawning around the edges of the lake's several islands.
Maine Audubon's annual loon surveys on Flanders Pond have been taking place since 1987.
This month's banner photo is of an LSM "Plant Paddle" held on Flanders Pond in 2017. The event brought together volunteers from across the region to learn how to work as a team to conduct an invasive aquatic plant (IAP) screening survey. It is likely that most of the records in our list of 13+ aquatic plants recorded from this lake come from this plant paddle.
There are currently over 80 Invasive Plant Patrol (IPPer) teams conducting screening surveys across the state of Maine. Most teams conduct Level-3 surveys annually. In a Level-3 survey, the entire littoral zone (the shallower portions of the lake that support rooted aquatic plant life) is screened for the presence of aquatic invaders. In many cases, IPPers also document the native aquatic plants observed during the course of the survey. In this way, LSM citizen lake scientists are not only helping to detect aquatic invaders early, before they become well-established, they are also helping us to better understand Maine's native plant communities.
Plant paddles are short (2-3 hour) events that take place on shore and on the water. They are a fun and informal way to introduce community members to the threats of invasive aquatic plants and ways to minimize their impacts through early detection. You too can become an IPPer! The work is not only interesting and important, it is great fun! To learn how you can get involved, please click HERE
You can find a wealth of information on invasive aquatic plants by clicking HERE and by clicking HERE.
Discover more about Flanders Pond HERE.
July 2020: Coleman Pond (Waldo County)


Credit: Deborah Fink
About Coleman Pond:
255-acre Coleman Pond in Lincolnville has a maximum depth of 13.4m (44ft) and average Secchi depth of 4.7m (15.4ft).
The invasive Northern pike (Esox lucius) is one of at least 16 fish species in this lake.
WATCH:
Along with other lakes and pond communities in the town of Lincolnville, Coleman Pond is working to address what has become an insidious threat to lake ecosystems across the state. The Lincolnville Lakes & Ponds Committee (LLPC) and the Lincolnville Board of Selectmen have recently adopted a program to help lakeshore property owners transition away from the use of unencapsulated polystyrene floats (the commonly-blue Styrofoam panels used to keep docks and rafts afloat). Over time, the polystyrene has a tendency to break down, distributing a seemingly infinite number of tiny light-blue bead-like pellets into the water column where they may be mistaken as food by a wide host of lake dwellers, causing disruption to the natural food web.
The LLPC program is strictly optional and involves volunteers from each of the lakes and ponds in the town (including Coleman Pond) conducting annual dock/float surveys. Surveyors simply record the number of unencapsulated floats currently in use on the lake. LLPC publicizes the results of the annual surveys while encouraging lakefront owners to make the conversion to more environmentally friendly forms of floatation. A group of LLPC community members have created a fund to help lower income families to make the conversion; other community members have offered their time and skills, providing assistance to those who cannot make the conversions themselves. The number of unencapsulated floats on Lincolnville lakes has gone down steadily since the program was adopted.
More info on upgrading dock floats is HERE.
June 2020: Cross Lake (Aroostook County)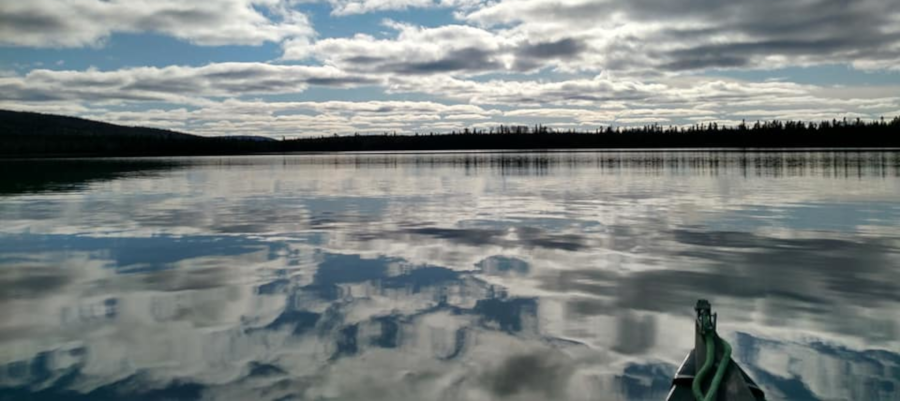 Credit: Friends of Cross Lake
About Cross Lake:
One of Maine's most northerly lakes, 2,537-acre Cross Lake lies approximately 15 miles south of the Canadian border. It is the third lake in the east branch of the Fish River Chain of Lakes. It is typically iced-in from the first week in December to the first week in May.
Cross Lake and its watershed provide excellent year-round recreational opportunities. Besides the approximately 260 shorefront properties, a large public boat landing and picnic area allow visitors to enjoy the lake and it also provides access to Square Lake, with its excellent coldwater fishery, both for open water fishing and ice fishing.
Cross Lake also supports a sport fishery of statewide significance for native brook trout and landlocked salmon and has been identified as a Wild Brook Trout Water, meaning it has self-sustaining populations of native brook trout.
In 2018, the Friends of Cross Lake (FOCL) was started by locals to spearhead efforts to improve and protect Cross Lake's water quality, which is classified as impaired due to excess phosphorus and low water clarity readings. FOCL has over 130 supporting members.
In 2019, FOCL completed a watershed survey with 35 volunteers, the help of many partners, and a grant from LSM. In order to improve understanding of the dynamics of Cross Lake's water quality and to gather high-density data, 13 "Secchi Blitz" volunteers were also trained and certified by LSM and DEP to conduct biweekly monitoring of 12 stations around the lake. Two of those stations were also sampled biweekly for phosphorus and chlorophyll. Other 2019 activities that FOCL either led or assisted with included: a bathymetric survey by EPA, stream and wetland sampling by DEP, a gravel road workshop with the State Soil Scientist, and a LakeSmart program for shorefront property owners.
In 2019, FOCL also received a DEP/EPA grant to develop a Watershed-Based Management Plan (WBMP) and the Cross Lake Watershed was chosen as an USDA NRCS National Water Quality Initiative (NWQI) project, providing additional funding and technical assistance to farmers in the watershed for conservation practices that protect water quality.
FOCL is continuing its water quality improvement efforts with another year of gathering "Secchi Blitz" data, expanding LakeSmart, participating in Maine Audubon's Loon Count for the first time, and WBMP development, which will describe the actions needed to restore Cross Lake to meet water quality standards over the next 10 years
Discover more about Cross Lake HERE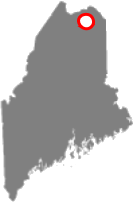 May 2020: Enchanted Pond (Somerset County)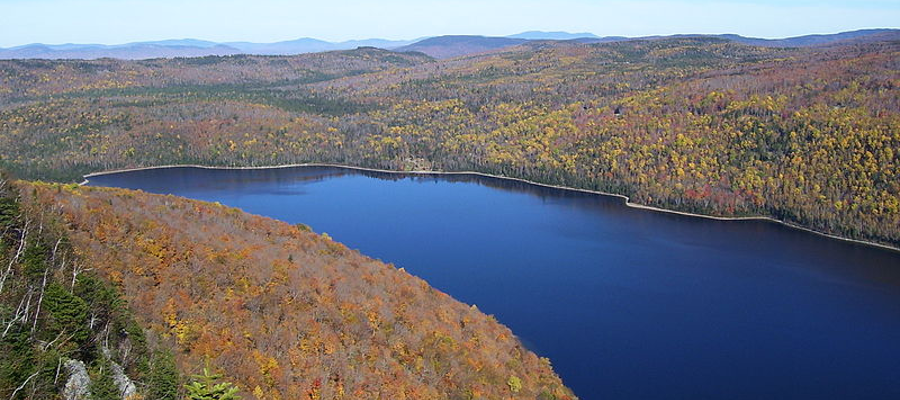 Credit: D. Savage
About Enchanted Pond:
Located in the mountains of western Maine, 334-acre Enchanted Pond is one of our state's most pristine lakes.
With a maximum depth of 185 feet, it is also the 6th deepest lake in Maine - notably deep when Enchanted's relatively small surface area is considered.
A factsheet How Deep are Maine Lakes? is HERE.
Enchanted Pond is one of only 14 lakes in Maine to have a population of Arctic Charr (in this case, introduced from Floods Pond in Otis).
The lake also has a "heritage" population of Brook Trout (there has been no stocking of this species since the early 1990s).
Bulldog Camps is one of the oldest traditional sporting camps in Maine and is located on the northern end of the lake. Established in the 1880s as a set of logging camps, this property has been operating as a sporting camp since the turn of the last century.
April 2020: Clary Lake (Lincoln County)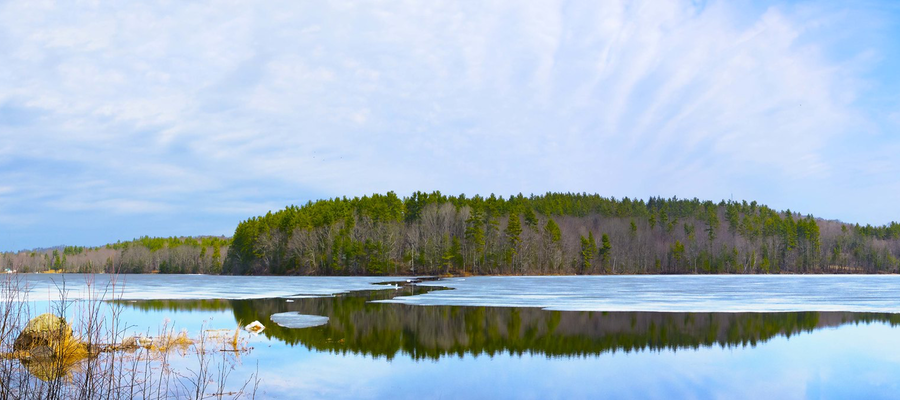 Credit: D. Hodsdon
About Clary Lake:
Located in the towns of Jefferson & Whitefield, 674-acre Clary Lake (also known as Pleasant Lake) is part of the Sheepscot River watershed. The lake is quite shallow, with a maximum depth of 30 feet (9.1 meters).
Ice-out this year was on March 27, according to David Hodsdon of the Clary Lake Association.
The water level of Clary Lake is maintained by a dam at its outlet on Route 218 in Whitefield. In 2014 a water-level order was issued by Maine DEP but the then-dam owner refused to comply with or maintain the dam and caused the lake level to be drawn down to a level lower than most people can remember, according to George Fergusson of CLA.
After a 7-year negotiation, the Clary Lake Association was finally able to purchase the dam in October 2018. The Association promptly repaired the dam and has restored Clary Lake to its historical water level. A full recovery is expected.
The Clary Lake Association has been engaged in water quality monitoring on Clary Lake since 1975. Today, 4 LSM certified water quality monitors measure transparency and dissolved oxygen twice a month throughout the boating season. The Association also runs a Courtesy Boat Inspection program at the State boat launch throughout the summer months.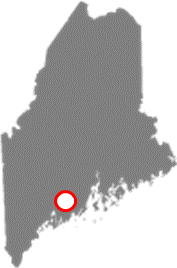 February-March 2020: Ellis Pond (Oxford County)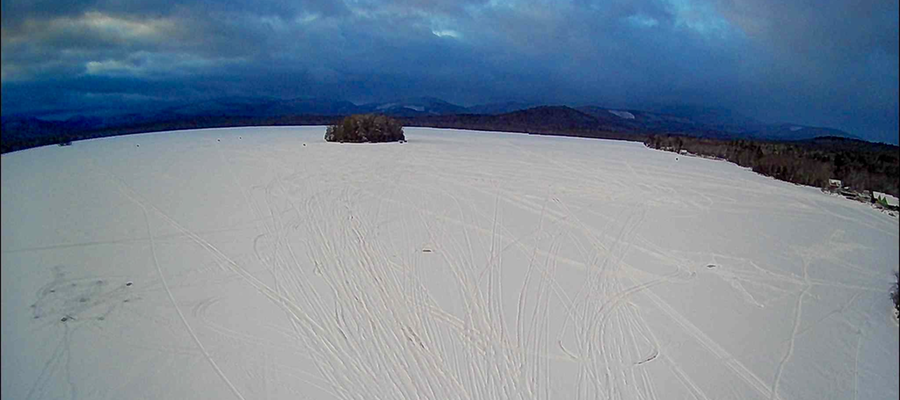 Credit: Ross Swain
About Ellis Pond:
Located in the towns of Byron and Roxbury, 919-acre Ellis Pond (also known as Roxbury Pond & Silver Lake) has a maximum depth of 43 feet
Water clarity has been measured here every year since 1990 (with additional data from 1982).
Lake stewardship is alive and well in the Ellis Pond community! The Silver Lake Camp Owners Association conducted two extensive citizen lake watershed surveys during the past two decades, each followed by mitigation projects, in which sources of runoff and erosion documented in the surveys were resolved. The Ellis Pond Sidekicks are also very active in lake stewardship. LSM Certified Lake Monitor, Ross Swain has been checking the health of the pond for 25 years. Recently, he documented the development of a brief, late season (October) algal bloom, which sometimes occurs when a lake "turns over" (de-stratifies or mixes). Such events may be an early warning sign that lake water quality is vulnerable to a change.
January 2020: Branch Lake (Hancock County)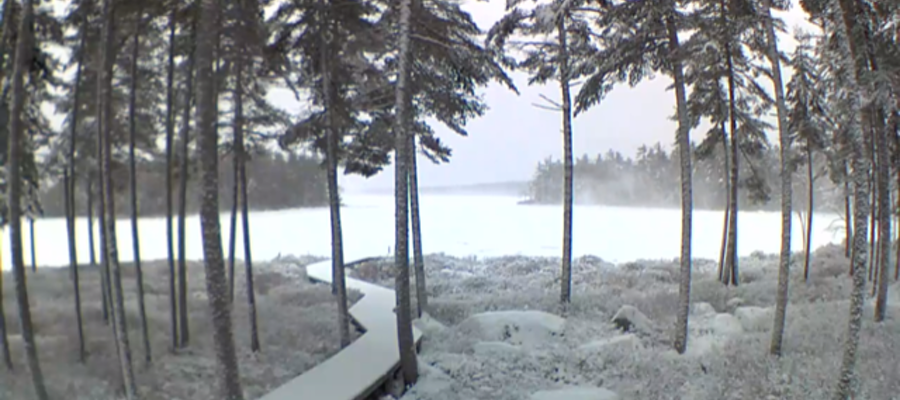 Credit: N. Norris
About Branch Lake:
2942-acre Branch Lake lies in the Union River watershed in Hancock County.
This 124-ft-deep (38-m) lake is the public water source for the city of Ellsworth.
Water clarity has been measured here since the early 1970s.
Branch Lake is one of over 330 Maine lakes with records of ice-in / ice-out dates.
Currently, LSM intern, Sarah Hammond is conducting a project in which she is surveying Maine's citizen lake scientists to learn more about changes in ice-in dates. To learn more about this project (and participate, if you wish), go HERE.


December 2019: Long Pond (Kennebec County)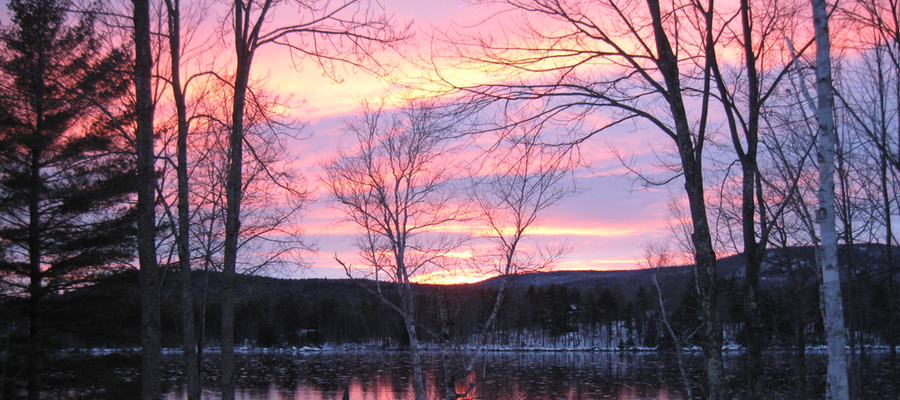 Credit: P. Kallin
About Long Pond:
There are 27 "Long Ponds" in Maine (and 6 "Long Lakes"). One of these is located in the Belgrade chain of lakes (it is fourth in the chain sequence)
Long Pond (Belgrade, Mt. Vernon, Rome) is a 2,557-acre lake, divided into 2 distinct basins. The "deep hole" (106 ft / 32 m) is in the southern basin
This lake has 20 fish species, including the invasive northern pike (Esox lucius), as well as both black basses
The Kennebec Highlands (ME Bureau of Parks & Lands) lie to the west of the upper basin, while the Belgrade Regional Conservation Alliance manages lands along the southern basin (MAP)
Water clarity has been measured in this lake since 1970; the overall average Secchi depth during this period is 6.3 m (21 ft) - a value which is in the mid-range of surveyed Maine lakes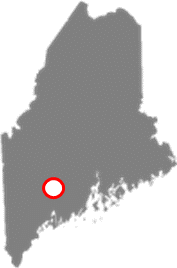 November 2019: West Pond (York County)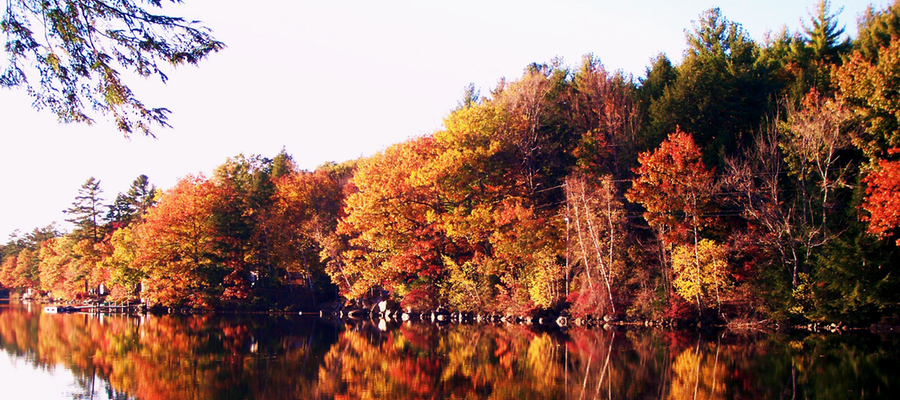 Credit: J. Howes
About West Pond:
167-acre West Pond is located in Parsonsfield. It is relatively shallow, with an average depth of 10 feet.
Invasive curly-leaf pondweed (Potamogeton crispus) was confirmed to be growing in this lake in the spring of 2004. The key to getting ahead of this invader is to harvest it early in the season, before new winter buds, or turions, develop. (Once formed, each turion—which may remain dormant in the sediment for several years—is capable of sprouting a new plant.) With fifteen years of experience under their belts, much hard work and determination, and some help from the DEP and others, West Pond Association has succeeded in significantly decreasing the infestation, and remains fully committed to the effort. According to WPA President (and major force behind the control effort), Dennis Spinney, "we lost a bit of ground in 2019—likely due to an emergence of dormant turions—but we just doubled down on our control efforts and we are hopeful that this will pay off."
This is a warm-water fishery—including both largemouth and smallmouth bass, and black crappie.
October 2019: Jordan Pond (Hancock County)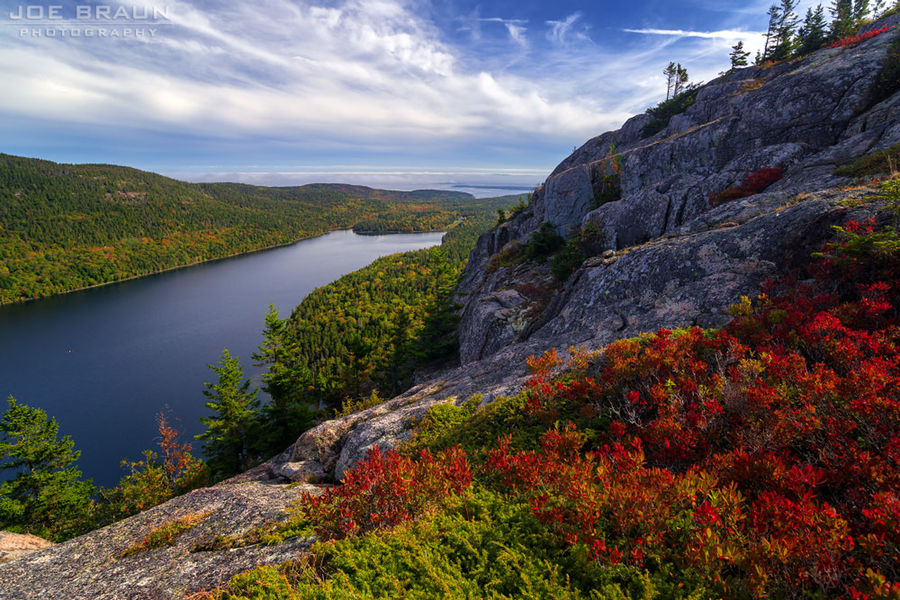 Credit: Joe Braun Photography
About Jordan Pond:
186-acre Jordan Pond is a lake of superlatives. Located in the heart of Acadia National Park, it surely is one of the most-visited lakes in Maine. Visually, it is also one of the most stunning of lakes
On only 3 dates have measured water transparency (Secchi) values in any Maine lake exceeded 65 feet (20 meters) - all 3 dates are from Jordan P. (1991 and twice in 1999)
The steep sides of this lake plunge down to a maximum depth of 150 feet
The cold-water fishery focuses on Brook trout, Lake trout and Landlocked salmon - there are 10 other fish species and over 14 species of aquatic plants